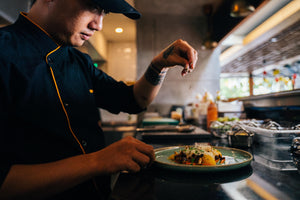 Industry Collection
---
Introducing the Kalypso Couture Bespoke Tailored Industry Garment Collection, a line of premium-quality aprons, bibs, and chef coats designed for professionals in the culinary, hospitality, and service industries. Our collection is crafted from the finest fabrics and materials, ensuring durability, comfort, and style in any work environment.
Our bespoke tailored aprons are designed to meet the demands of the modern kitchen, with features such as reinforced stress points, adjustable neck straps, and multiple pockets for storage. Our bibs are tailored to protect your clothing while providing a sleek and professional look.
Our chef coats are the epitome of luxury and elegance, handcrafted to your exact measurements and specifications to ensure a perfect fit. Choose from a wide range of colors and fabrics to create a unique and personalized look.
Our collection is not only functional, but also fashionable, which makes it perfect for chefs, servers, bartenders, and other industry professionals who want to look their best while on the job. With Kalypso Couture Bespoke Tailored Industry Garment Collection, you can expect superior quality, comfort, and style. Elevate your work wardrobe with our bespoke tailored industry garments.
Sorry, there are no products in this collection.